A Q&A with choreographer and director Wayne Parsons
As artists, we are always asking ourselves 'why?'. Inquiring, searching and questioning are at the heart of the dramaturgical process. To refine our works is to ask and try to answer limitless questions that start with 'why?'.
My collaborators and I are on the eve of premiering our latest dance theatre work. It's been a long time in the making. And as we head into this moment, it feels important to share some of the 'whys?' that have been answered in the making of VOXED's new work, Out Late.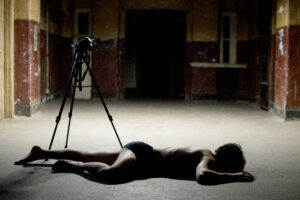 Why a crime drama?
When creating narrative dance works with text, one of the central investigations for us is: where does an audience find truth? In text? Or in movement? To draw this out, we try to build a contradiction between text (the words and the intention behind their delivery) and movement (the performers physicality and the staging). If the text is like a play, I think about movement as an added layer of subtext giving further complexity to the work, its story and its characters.
I came to my long-time collaborators—writer Ankur Bahl and dramaturg Pooja Ghai—thinking about the types of stories that might really push the limits of this artistic investigation. I suggested we make a crime drama. It's a genre that invites the audience to problem solve, to look for clues, to mine for the truth. Given our artistic intrigue into where an audience finds truth, the possibilities of grounding our next work in a crime drama genre felt a natural fit for what we were trying to do.
But I also knew I wanted to bring something new to the genre. One important discovery in this was when we decided early on to tell this story with just three characters: a murder victim and the two main suspects. No detective. Can you tell a crime drama narrative without a detective? This was one of the most interesting problems to solve in the development of the work. We found that trapping the victim in an afterlife space, without knowing who killed him, we gave ourselves license to replace the detective's voice with the victim's.
The ability to evoke the imagination is one of the real joys of working in theatre. Blurring the lines between the real world and the afterlife has been a joy of a creative challenge.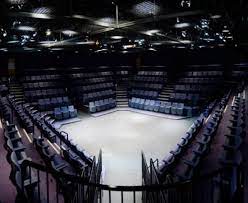 Why in the round?
This decision really came from the story and the genre.  Forcing the characters to be surrounded by the audience on all sides created a sense of voyeurism and surveillance that felt right for the work. Also, the structure of the script lends itself nicely to being in the round. We move locations frequently and the performers never leave stage. Rosa Maggiora's design is beautifully abstract and suggestive, and having lots of 'fronts' helps give us a flexibility to shift the space at pace that matches the quickness of the narrative. In Out Late, each character has some kind of deception, lie or cover-up going on. It's a world in which nothing that is said can be trusted, and so it's really powerful for the audience to see all of this unfold and know that nothing is being hidden away in the wings or in places they can't see.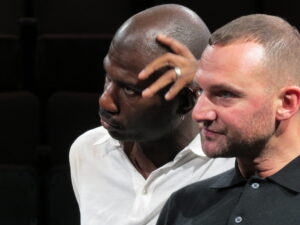 Why this type of LGBT+ story and characters?
This one's personal. As a gay man, experiencing and making LGBT+ stories is important to me. For example, I devour films with LGBT+ characters, or those made by LGBT+ filmmakers. Some of the film references for this work were films like Tom at the Farm (2013) by Xavier Dolan, Discreet (2017) by Travis Mathews, Stranger by the Lake (2013) by Alain Guiraudie and Rope (1948) by Alfred Hitchcock.
So, coming into Out Late, I knew I wanted to make a crime drama, and I knew I wanted it to feature an LGBT+ storyline.
Then it came to the characters and the plot. As I've said, each character has a deception. One character's deception is that he is hiding is sexuality. Of course, in the work's development we questioned this a lot. Should we create a story where someone is struggling with their sexuality? Does exploring internalised homophobia still feel relevant?
After our own personal struggles with our sexualities, both Ankur and I both came out as gay relatively late, the same age as one of the characters in the work. We've had lots of conversation with other LGBT+ people who have had similar experiences, even now, even after so much positive change has been made.
I feel it's my job as a storyteller to reflect the world as it is. The good, the bad and the ugly. So, for one character, we drew on our own experiences of coming out late. And this required us to be fully aware that no character can or should be representative of the complexity and diversity of an entire community.

Why text?
I get asked this question a lot. Nobody ever asks: 'why dance?'. I imagine because dance has been my home for a long time. I love dance. I love movement. I love watching the virtuosity of dancers. I have danced and made dance for many years, it's in my bones.
The start to answering 'why text' comes from my other love: a love of storytelling. I love being transported into the world of a captivating live theatre piece. I love hunting through the BFI archives to find gems (old and new) that inspire me. Within dance and theatre, I love watching the work of artists like Crystal Pite, Lloyd Newson and Ben Duke as well as the works of companies like Peeping Tom, Frantic Assembly and Gecko. I love them for the worlds and characters they create, the physicality they employ, and in many cases their analysis of the relationship between movement and text in narrative works.
So, loving dance and storytelling, I chose to include text in our works because: firstly, it enables me to tell more complex stories and develop more nuanced characters. It also facilitates an artistic search focusing on the relationship between movement and text that I find fascinating. I believe it provides multiple access points for audiences, which has been especially important to bring audiences to the work who are less familiar with (and sometimes intimidated by) dance. The last thing for me is the benefit of the dramaturgical process when developing a new script. It requires a rigorous analysis of the work and its themes. The fact that this happens well before I enter the studio with the performers is an added bonus—making the precious time in the studio with the performers more focused around the narrative drive of the work.
Wayne Parsons